Sexy Mom Breaking Bad Habits
Who is this sexy mom breaking bad habits I hear you ask? Let me introduce you to Monique. She's a real slut. Well, let's say that she was. It was her job to be, you know…because well…she was a prostitute. A damn good one. She was known by her clients as the baby-faced beauty. Blonde, very young and innocent looking. They all wanted her.
A Sexy Mom
Monique went from being forced into prostitution to becoming a sexy mom. I was so fascinated by her story that I ended up writing about her life. She was a sexy mom that became a victim who tried desperately to break bad habits such as cocaine and the ongoing cycle of abuse. She kept going back for more, as most victims seem to do.
Think you can't be shocked? Read this book, I guarantee you it will be shocked. In fact, I was pretty shocked interviewing her for the book.
There are many books about prostitutes that are both gritty and violent and deal with underworld topics. Monique is both a gritty prostitute biography that covers crack cocaine abuse, drug trafficking and more importantly, it is about a victim desperate to begin breaking bad habits. Her clients and her boyfriends were drawn to this sexy babe for a reason. Even after she became a sexy mom after she had her child.
It's racy, disturbing and it's definitely not a light read. It's a dark biography that is at times kinky. Reader discretion is definitely advised. I did warn you.
The Origins of the Sexy Mom Breaking Bad Habits
A sexy mom breaking bad habits is exactly what Monique is. Her name was Kelly-Anne, your average teenage girl who quickly got pulled into a deceptive and downright horrifying world of prostitution and abuse. Yes, she's a victim and yes, she seemed to live a perpetuating cycle of torment and cruelty by all who seemed to come her way. At times you really want to scream at her because it's frustrating to see someone repeat the same mistakes.
Her rescue? It's her daughter Cherie. It is only when Kelly-Anne has a child that she realizes that she can no longer be a victim. She must protect the child-before she is even born-from those that would do her harm. It was this realisation that saved her and her daughter's life.
The story of this particular sexy mom is one that is not new, but it is distinctively interesting because of the events in her life and the need for her to break bad habits. The events of her life were shocking.
As a drug trafficker, she fled England to South Africa and sought refuge from her estranged brother to protect herself and her young daughter.
There are those who read the book and hated Kelly-Anne/ Monique because she became the epitome of victim; there are those who feel that Kelly-Anne brought this upon herself. That may be true, but her strength is what characterizes her. It is her love for someone else that further strengthens her resolve to be free. Her daughter really did save her life.
We walk within the walls of our lives, taking comfort and shelter from the safety of our little bit of the world. Most of us are away from the underworld and the life of drugs, degradation, prostitution, money laundering and victimisation. Yet, it is all around us just the same. Just because we choose not to see it doesn't mean it isn't there. Now and again a book comes along that shows us an alternate reality and we cringe at the sad nature of it.
Is This Sexy Mom a Survivor?
This story of a sexy mom breaking bad habits is one of survival. We all want to make it to our own graves with a story, hopefully a pleasant one. The longer the story, the more we will feel that we have achieved something. We survived another day. We made it past yet another milestone, we escaped ever going to prison, we escaped persecution perhaps. We mostly want to reach our death beds having had a good story to tell and to have lived a lifetime full of good memories.
What makes Monique's life and her book so fascinating, is that she gives us a glimpse into a world that very few of us even know exist. It is a world that is so dark, so gritty, so filled with pain and suffering that we wish to only ever see it in a book. And then, and only then, do we concede that the story isn't real, because that fits within your view of how things should work.
Come Take a Journey With Me
Take a little journey with me, come along and have a little peek of this life that I put into a book for you. Then you can go back to your life and examine the world that I've shown you and judge it. I suspect that your judgement of such a life will mirror mine, it is a life that was half-lived for so long.
Monique is now available on paperback and on Kindle at Amazon.
If you're looking for a saucy story…there's a small sample from Toby here…
Fox
Pssst…I need your help
Fox Emerson costs money to run, and most people think I earn a million dollars because I have several books. Spoiler Alert: I don't earn enough to cover running costs.
You could help by simply downloading ANY of my books on Amazon or Smashwords. There's a free one, a cheap one and the most expensive one is US$2.99
Also, if you like my blogs, maybe you could take a few seconds to let me know?
Are you a reader? You might like my work. Or maybe someone you know might like my work? Forward it on. Share a book or a post on your social media. Every tiny bit helps and it means I can keep writing free content.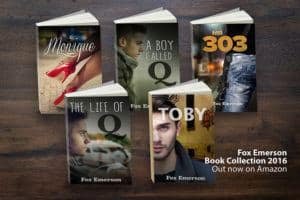 Thanks!
Fox