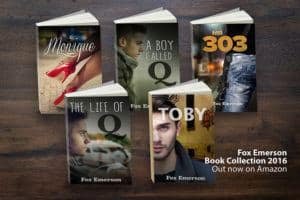 Fox Emerson is easy.
He's sort of Italian, kind of Australian, and a bit chavvy from his years in England. But he's all about the humour.
If Twitter bio's can be believed, he's an altruistic liar.
Back in the black and white days, Fox completed a degree in Computer Science – then spent a good part of his life working all over the world in the exciting field of computer science. Even though this meant he lost all his hair from stress. After years of repetitive work, Fox wanted to invest his down time into something that he always wanted to do. Write.
"Monique – she was real", he sighs. "Kelly-Anne was one of my dearest friends. We wrote a book together, we did. Her – in her North London flat, recounting 'fings' as though they were ordinary, and me – bashing them keys with a fag 'anging out me mouth and a wild-eyed incredulous stare somewhere under them bleedin' bushy brows."
"Honest 'guv. She was real she was. But then she went and died. Pretty sad about it still, init."
But by then he was hooked on writing. It was evident that he really wanted to write this apocalyptic love story about a girl who falls for a wealthy guy as the world's falling apart. In Mr 303 (yes, it's English so they don't use a full-stop after Mr.) the world has gone to shit and a virus kills over 90% of the world's population.
Some light reading for you here in Mr 303. Boy did Fox get trolled for that book, put him off finishing part 2, which is a shame, given it was practically nearly finished.
His third book, 'Toby' – about a bisexual, male prostitute living in Barcelona was released in June 2016. He later finished and published A Boy Called Q to mostly positive reviews, which prompted the sequel The Life of Q.
Q is an enigma, he's struggling to accept that he's gay and yet, he makes a bad choice. No, the book isn't about Jackie, it's just that she features in it a far bit.
In order to understand the complexity of Q, you'd have to read the two.
Lucy was released in March 2017, a detour from the grit of previous works. It is a story about a young girl who experiences fame at a young age and struggles to accept the adulation.
Hide and Cheat came out in June 2017 and largely got ignored. No idea why. It just seems to get completely ignored. Shrugs.
Circle in the Sand which was released in October 2017 saw a departure from sexual topics and an exploration of aliens, ghosts, UFO's and Gods. "I wanted to have some fun with the conspiracies and beliefs about aliens and human history and make it more English." The book was successful, with the small audience who saw it.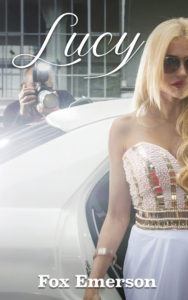 "The problem with clones, is we are all clones and nobody wants to be one. We all run around wearing the same brands, cut our hair the same way, and bitch and whine how life is so homogenic and everything tastes and looks the same. The irony of this is when someone does something really different – aka – Lady Gaga – we go mental and admire it and challenge it and become inspired by it when we could just stop buying into the mass-shit of everything and get our own identities and live our own truths. But, whatever, each to their own. Right?"

The Peace Ambassador was largely ignored. But The Hole in the Door is Fox's most successful book yet.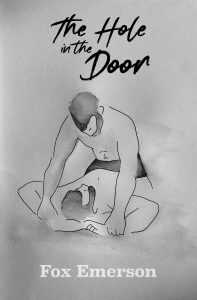 "I really wanted to explore the hidden pasts of so many gay men, especially in obscure places like Perth, Australia, where homophobia is endemic. This story about a glory hole door being donated to the West Australian Museum just grabbed me."
Fox Emerson now lives in London. "It's all about balance," he says, stroking a black cat from his home in London's hip and happening – omg everyone wants to live there – Clapham, flat. He's currently working on a podcast about anti-ageing and writing other books as his alter-ego – Adam Norty in addition to book number 11 as Fox Emerson.