Living in Florence
What's it like Living in Florence? I love it. It's different for sure; having previously been in Australian cities, London, Gibraltar, Jersey-Channel Islands and a few dots here and there, Italy has become an easy place to call home.
Living in Florence started off as a 'needs must' venture more than a whim, like, 'let me go live in Florence because it looks so cool' kind of way. You'll see more about the reason I'm in Florence with my Australian Permesso di Soggiorno article and also my Mr 303 and Toby books which I'm writing. There's also a bit of marketing and promotion going on with Monique the book. Did I mention I wrote a book?
You know there's no place more inspiring than Florence to work in, well you probably don't but I do. Florence is an amazing, breathtaking city to live in. The locals are simply wonderful. There's so much to do, there's a whole heap of museums, art galleries, studios, cafes, shopping, tourist things and just people watching in general.
As I recall my Italian skills from my young days before my family moved to Australia, and try and practice with the locals in Florence, I am continually reminded that I have a very strong accent from the Caserta, Naples region. In fact, what I only just discovered in the last few days is that my accent is somewhat distasteful to the locals because it's from a part of Italy that speaks poorly; lots of slang.
So not only am I trying to recall my Italian language, but I'm also having to learn to re-pronounce things so that I don't sound like an Italian hick. Who knew. Interesting stuff you find out when you return to the home of your birth. So while I sit around for a year and wait for my passport and write books, I'm going to make the most of the fact that I currently live in Italy and that I've chosen Florence, the right city, to live in.
If you're considering Living in Florence, there's some really cool stuff you have to know and see. One of the most amazing inside scoop/secrets about Florence you will discover is on the Lost in Florence website. This is run by my long-time friend from Australia, also living in Florence, Nardia. She's done an amazing job over the years of building up some knowledge on all things Florence and it is a website which truly does have it all.
Pssst…I need your help
Fox Emerson costs money to run, and most people think I earn a million dollars because I have several books. Spoiler Alert: I don't earn enough to cover running costs.
You could help by simply downloading ANY of my books on Amazon or Smashwords. There's a free one, a cheap one and the most expensive one is US$2.99
Also, if you like my blogs, maybe you could take a few seconds to let me know?
Are you a reader? You might like my work. Or maybe someone you know might like my work? Forward it on. Share a book or a post on your social media. Every tiny bit helps and it means I can keep writing free content.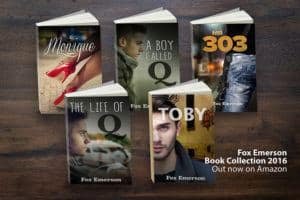 Thanks!
Fox