Finally the vaccine is here. It's taken a lifetime, but Covid-19 has finally come to cleanse the earth of it's deadly virus.
We went deep into the forest, wielding battle-axes, acting like giants screaming, "victory!", like we owned it.
But then mother nature stealthily crept up to our homes in the middle of the night and gently licked our doors and windows with the poisoned tongue. Even as we watched loved ones get carted away, we asked, "why?".
But we know why.
The best tutor you'll ever have is one that will show you what you need to know instead of what you want to hear.
It doesn't care about this complex world we've built and filled with corruption, greed, injustice, gluttony, destruction, lies and pollution. In fact, these are the reasons it proliferates.
Tiny voices in a hurricane of noise warned us that dirty lungs were the target, and gluttony was a problem and fragile elders needed to be shielded. But our incompetence overtook our arrogance and we waited until it was well within our homes before taking small steps to show we were doing something.
We discovered that real heroes weren't born-famous millennials that we'd celebrated on the cover of magazines and on 'The Gram' nor 'The Snap'. Nor are the real heroes of our time rich and famous.
But we'll forget soon enough and go back to celebrating stupidity.

Our arrogance compels us to sharpen our axes so as soon as the virus retreats, we'll charge forward into the environment, trampling on everything, having learned nothing.
We aren't the victors, we are the problem.
We've been warned.
And you've been blessed by the mad rambling of Fox.
Pssst…I need your help
Fox Emerson costs money to run, and most people think I earn a million dollars because I have several books. Spoiler Alert: I don't earn enough to cover running costs.
You could help by simply downloading ANY of my books on Amazon or Smashwords. There's a free one, a cheap one and the most expensive one is US$2.99
Also, if you like my blogs, maybe you could take a few seconds to let me know?
Are you a reader? You might like my work. Or maybe someone you know might like my work? Forward it on. Share a book or a post on your social media. Every tiny bit helps and it means I can keep writing free content.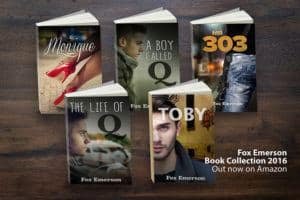 Thanks!
Fox