Hi readers, I'm in need beta readers for a couple of short books. Both are MM/Romance/Erotic short stories.
If you have my email, please email me, otherwise you can message me here (under this post) or via the contact form on this website.
The books are:
Straight Tail – Straight Tail is written from first person perspective and is about a married man named Alan, who befriends his neighbor's dog Leah, and takes her jogging daily, or rather, she takes him.
Adam Norty style, this book takes a…crooked turn, as Adam Norty books should, so the usual explicit content warnings apply.
Slut – Slut is written in Narrator – Omniscient style, and is a series based on a guy called Hayden who has a sex addiction. Things get complicated when Hayden is introduced to Gordon, a beefed up, muscular teddy bear, who's an entrepreneur and looking for love.
The two seem like a match, but are they?
Again, the usual Adam Norty explicit warnings apply.
Thanks!
Fox
Pssst…I need your help
Fox Emerson costs money to run, and most people think I earn a million dollars because I have several books. Spoiler Alert: I don't earn enough to cover running costs.
You could help by simply downloading ANY of my books on Amazon or Smashwords. There's a free one, a cheap one and the most expensive one is US$2.99
Also, if you like my blogs, maybe you could take a few seconds to let me know?
Are you a reader? You might like my work. Or maybe someone you know might like my work? Forward it on. Share a book or a post on your social media. Every tiny bit helps and it means I can keep writing free content.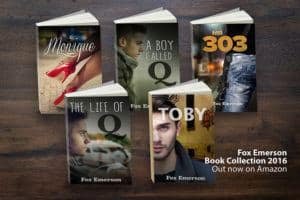 Thanks!
Fox