Beta Readers The Unsung Heroes of our Time
Have you heard that song? 'Behind every writer is a great beta reader'? Oh wait… I just twisted a little bit of fiction into my narrative. Wasn't it, 'behind every man is a great woman'…? This post is dedicated to beta readers.
The Hole in the Door is finished. Finally. But not without great thanks to beta's. As with every previous book/story, the beta's come in and they clean up. Beta readers are the unsung heroes of our time.
The first beta readers on The Hole in the Door were a little complimentary, but mostly critical. "Yeah, it's a good story, but kind of depressing, kind of sad, kind of meh, and kind of waffled a bit here and here. Oh and didn't really like your main character, in fact, I didn't like most of them." Ok, I exaggerate a little. Most really enjoyed the story, but wanted to see some changes.
DNF
Have you ever read a book and not liked the main character? And finished it? If I don't like the main character, there had better be some really good supporting characters for me to like, otherwise I'll mark it DNF (Did Not Finish) and move on.
So, The Hole in the Door went through a metamorphosis, and a facelift, a character transplant, some people were revived (a bit like the UK Government did with covid-19 death rates recently), another was killed, and voila! I had a second version of the book that went to beta readers to shred.
During that second round, I got a whole lot of different responses. Most readers gave it between 4 and 5 stars and some further grammatical changes along with some minor storyline adjustments. "I cried! Man…you made me so horny during this part…Why did that happen! I really loved Sam."
The Hole in the Door is now a completely different book thanks to the beta readers who dedicated their time in shredding it, and they did this because they cared about the story. They are part of it you see, they're part of the journey; they're part of the end result. I can say with honesty that this book would not be what it is now without the beta readers. There were about 30 of them who helped me to get this book to the final stages.
The Credits
Naturally, I put each of them in the book's opening credits. Not all, just the ones who spent countless hours, line by line, picking up errors, making suggestions, crying with me, laughing with me, and pointing out the good and bad.
I wouldn't have a book if it wasn't for the true story of Neil in Perth, Australia and The Sisters of Perpetual Indulgence. They donated a door, with a glory hole in it, to the West Australian Museum. So, naturally, they're thanked first and foremost.
But the people who stood out the most; Michelle, Jessica, Carl (I renamed Gilbert after you), Takeru, David, Juniper, Mansi, Chris, Mike, Andy, Tyler, Charles and then, at that very last moment as I'm packing up and ready to release, Anh comes in with some wonderful (can't believe how many) changes and suggestions.
Each of the beta's have been listed in the credits at the front of The Hole in the Door.
The Cover
I'm going to squeeze in a BIG thanks to the AMAZING Charney Magri for the cover. What do you guys think of the cover? That's Charney's drawing 🙂 Charney is originally from Perth, Australia, but now lives in London.
I've got some short stories I'm writing as Adam Norty at present, so any beta readers want to jump in on those, please hmu. I'm already onto a new book.
This post is a BIG THANKS to beta readers. They get to read everything before the general public and help the author fix the work so it's as close to perfect as it can be.
And all beta readers get all my books free for the rest of their lives, whether they like it or not 🙂
The Plug
The Hole in the Door is out on the 23rd of October, and I'd love your help in getting it out there. When a new book hits the stands, in that first 24 hour period, the algorithm counts the number of sales and general public interest and ranks it accordingly. The book needs to make it into the top 100 of any category for that day. If it does, it gets into the newsletter and then gets visibility across the world. And if it doesn't, it sinks to the bottom of the Amazon ocean, occasionally to be seen as a thumbnail on Amazon's bookstands.
So, next week, on the release date, I'll ask, beg, implore, entreat, beseech, supplicate… 'yeah yeah yeah, we get it, you know how to use a thesaurus Fox', asking you to buy a copy. I'll make it super cheap on release date for a few days in the hopes to facilitate this.
And I know that it's difficult for people to publicly write a review for a book such as this one. But for those of you who read it, you already know it's not about the sex. Although there is lots of sex in the book, it's more about Brad's life in Perth, Australia from 1963 onwards.
Stay safe out there and once again, THANK YOU to the beta readers. x Fox
Pssst…I need your help
Fox Emerson costs money to run, and most people think I earn a million dollars because I have several books. Spoiler Alert: I don't earn enough to cover running costs.
You could help by simply downloading ANY of my books on Amazon or Smashwords. There's a free one, a cheap one and the most expensive one is US$2.99
Also, if you like my blogs, maybe you could take a few seconds to let me know?
Are you a reader? You might like my work. Or maybe someone you know might like my work? Forward it on. Share a book or a post on your social media. Every tiny bit helps and it means I can keep writing free content.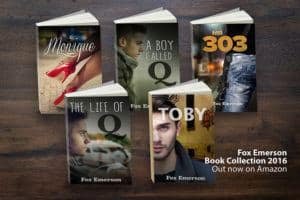 Thanks!
Fox