I wrote a book and I called it Slut.
The premise? One man's insatiable appetite for sex. The conflict? A hunger for love.
It is um… a traditional tale. Boy meets boy, boy has great sex but finds he wasn't fulfilled by boy, so he finds another boy and has sex with him too. But even after that one, and the next one, he is never really satisfied, and then one day, when he finally finds love, he realises that…
I'm not telling you what he realises. And I think you realise by now that my definition of a traditional tale is a little, skewed.
If you want a heart-warming tale of romance, with a little bit of sex, go find Barbara Cartland or whoever the latest romance writers are.
If however, you'd like to go on my Anastasia Beaverhousen journey equivalent, then please jump on board and hit up Adam Norty and check out Slut.
It's a series btw and part one is up and ready.
Also, an acquaintance of mine in London has agreed to be the cover model for the Slut series of books. For now, I have a temporary cover, but photographer Charney Magri is doing the photoshoot and so I'm expecting the cover to be as hot as the centre.
Stay tuned for updates.
Foxy Adam
Pssst…I need your help
Fox Emerson costs money to run, and most people think I earn a million dollars because I have several books. Spoiler Alert: I don't earn enough to cover running costs.
You could help by simply downloading ANY of my books on Amazon or Smashwords. There's a free one, a cheap one and the most expensive one is US$2.99
Also, if you like my blogs, maybe you could take a few seconds to let me know?
Are you a reader? You might like my work. Or maybe someone you know might like my work? Forward it on. Share a book or a post on your social media. Every tiny bit helps and it means I can keep writing free content.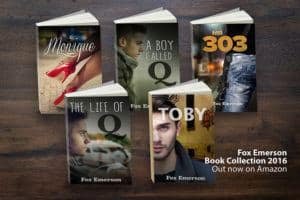 Thanks!
Fox