A Medici Brilliance in English
A cultural 1 hour rundown of 300 years of Medici rulings
Fuck me. I got lucky and managed to get myself invited along to a Medici brilliance in English, right here in Florence.
There's my cultural input on an enjoyable evening in Florence. Since I moved to Florence, I've met a lot of people who know a lot of things about a lot of places in Florence. I admire them all, but I'm not one of them. I might even – if I'm in the frame of mind to admit it – be a little apologetic that I've made no time to get to know the historic significance of this fine city in any great detail. I know that the statue of David is here…somewhere and that Dante was here – I know because I walk past his statue every day pretty much – and that there's a massive church called the Duomo in the centre and that there might be a few hundred other churches spread around town that all beg to be discovered. If you're here for a cultural lesson on Florence, you've accidentally hit the wroooooong page. I'm just going to tell you that if you're in Florence for a night, for 3 nights or perhaps you live here; either short or long term, then you must see this 1 hour play. It is without a doubt, a Medici brilliance in English.
Luckily for me, Nardia from Lost in Florence had her plus 1, plus 2, plus 3, plus 4 and possibly a dozen others decline an invite for the press only screening of the Medici Show. Either way, I was her plus 1 for this evening and was lucky enough to have been given an opportunity to see it. It's really um, good.
Starting at 7pm, you are instantly immersed into a colourful display of multimedia infotainment before the two actors appear and take you through 300 years of the Medici Dynasty in just one hour. You would think that two people, talking on stage for an hour might be a little dull but it isn't. In fact, for someone who was born in a beautiful palace such as Palazzo Reale – ok, not actually born there, maybe a few streets away – I love having history given to me on a plate, with a knife and fork and told how to enjoy it. That's exactly what happened. I sat, I watched and became informed and now I could almost give you a recount of the Medici Dynasty, in a few minutes. But as previously stated, I'm not that kinda guy. I'll just tell you where to go.
If you're coming to Florence, go see it. Then go get dinner, have lots to drink, try and climb the Duomo – then get arrested – then go hit one of the many awesome drinkeries around town and impress your friends with how much you know about Florence's history and pretend you spent years studying this. Then laugh, pass the fags and tell them to go see it.
Let me give you a rundown – because I really didn't know this. Anna Maria Luisa and her brother Duke What's-his-name Medici argued before his death that the entire Florentine history of art would be lost if something wasn't done after a discussion on how much of history has been pillaged or lost. She suggested enforcing that all artwork would have to stay in Florence before leaving their entire legacy to another family. They argued, she won and that's what happened. To this day, Florence is one of the few Italian cities which has all of it's artwork retained because of this. Clever. Because, I don't know if you have noticed this, but there's something unnerving about seeing awesome Greek friezes – in the Louvre. Or amazing Persian artwork – in London. Roman artifacts? Yep – New York. Ancient Aboriginal artwork – in Rome. You get the picture, or do you want me to go on?
The Medici Dynasty show gave me a massive history lesson, in just one hour and now I feel slightly less dumb.
Cheers for tuning in, Fox.
Pssst…I need your help
Fox Emerson costs money to run, and most people think I earn a million dollars because I have several books. Spoiler Alert: I don't earn enough to cover running costs.
You could help by simply downloading ANY of my books on Amazon or Smashwords. There's a free one, a cheap one and the most expensive one is US$2.99
Also, if you like my blogs, maybe you could take a few seconds to let me know?
Are you a reader? You might like my work. Or maybe someone you know might like my work? Forward it on. Share a book or a post on your social media. Every tiny bit helps and it means I can keep writing free content.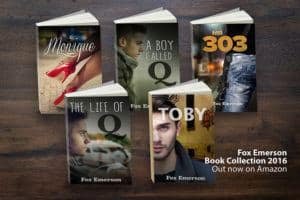 Thanks!
Fox