Hollywood Romance Books
I did it. I wrote and published my first Hollywood Romance Novel. Phew.
Imagine if you were thrown into the spotlight at just 16. How would you cope? What would change in your world? How do you think your relationships with family and friends would adjust to such a different existence? Most of all, how do you think you'd cope trying to have a successful Hollywood romance amidst such craziness?
As a youngster ( and still to this day – on occasion) I read Jackie Collins' books. I was always a little fascinated by how different your life would be if you were always being scrutinized by paparazzi and the media. When a famous icon's Hollywood romance ended disastrously, I'd watch from the comfort of my anonymous life and judge it based on the facts that I'd been spoon-fed by the paparazzi – those snippets that may or may not even be true, but were sensational enough to be news. When Jackie Collins created Hollywood romances, I immersed myself into each of her novels and had my curiosity sated, to a degree. I'd felt that she'd done a good enough job to give me enough of an insight but not too much to ruin the fantasy of life in such a different world.
Hollywood Romances
When Angelina Jolie and Brad Pitt split, I was disappointed. I really believed that some relationships could survive such a world if both partners worked hard enough and I felt that if anyone could make a Hollywood romance work, it was the mega-famous Brangelina.
In novels such as Jackie Collins', you'd often have a nice happy romantic ending and that left us – the readers – happy with the story. But the older you get, the more you realize that unfortunately life isn't like that.
In the real world anyway. Who wants to live in the real world?
Lucy
Let's create our own reality. That's that I did with Lucy – I created a young girl, exposed to untold riches and fame, at the very young age of 16. By 17, she's the world's star of the moment. Everyone wants a piece of her. But could she have a successful Hollywood romance?
I gave Lucy a guy around her age and I called him Adam. With the perfect personality to weather a media circus of a lifestyle, Adam would be the closest Lucy's going to get to the perfect romance.
It's a complicated mechanism, creating romances with characters that are believable and lovable, but I tried. After having written gritty shit – yes, prostitution and drugs and suicide related dark-stuff – I wanted to write a book that you could read in your favorite arm-chair, with a hot drink or a delicious vino and make you want to get lost inside that world. And I wanted that world to be exciting and believable and relatable, but also to give you the exact same feeling that I got when I read Jackie Collins' books.
Hollywood Pop Stars
We all know that those people we see walking down the red aisle, or performing live at some large-scale event are real people with real feelings and real problems, just like us. But we don't necessarily correlate that with the icons we see on our screens.
When a good friend of mine bumped into Sarah Jessica-Parker in New York City, first thing in the morning, she asked her for a quick selfie with her. Sarah – without make-up and clearly popping out to get some groceries – very politely declined. My friend came away from that disappointed and when I saw her and we discussed this, I did my best to explain that these people aren't animals in a zoo, they are real people with real lives. Sarah may have had any number of concerns that morning and probably didn't really want her early-morning face plastered on social media. Especially with a random stranger.
We can get close, but not too close. We can be curious and eager to get an insight into the lives of the rich and famous and pry into their Hollywood romance, but let's not judge too hastily and remember, that they are people.
In writing Lucy, I wanted the reader to get a sense that someone's life in the public eye, may not be as glamorous off screen as you think.
Will Lucy have her own successful Hollywood romance with Adam?
You'll have to find out. Please do let me know your thoughts.
Fox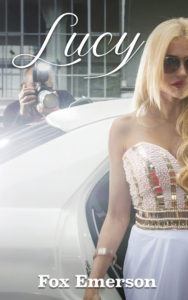 Pssst…I need your help
Fox Emerson costs money to run, and most people think I earn a million dollars because I have several books. Spoiler Alert: I don't earn enough to cover running costs.
You could help by simply downloading ANY of my books on Amazon or Smashwords. There's a free one, a cheap one and the most expensive one is US$2.99
Also, if you like my blogs, maybe you could take a few seconds to let me know?
Are you a reader? You might like my work. Or maybe someone you know might like my work? Forward it on. Share a book or a post on your social media. Every tiny bit helps and it means I can keep writing free content.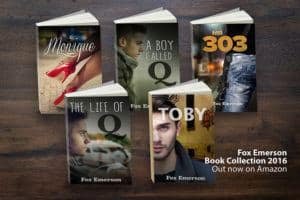 Thanks!
Fox