Newsflash: There's no immediate apocalypse coming today – that I can foretell at least, but stay tuned, every country around the world is trying desperately to bring one in; including England. So, the apocalypse is coming, it's just a question of when.
In the book titled, Mr 303, I chose a virus to devastate humanity. In my current book, titled, The Peace Ambassador – hopefully, out in January, the apocalypse is brought about by terrorism and greed. I'll post an update once I have firm dates for its release.
And for those who have been inquiring after Mr 303 part two, I've decided it will come. But not until mid next year. I have 70% of a book but need to finish it and rewrite certain parts – and then it's got to go through the shredder (my editors), before going to the beta readers, who will probably shred it some more. Want me to hurry this book along? Write me a review! Reviews are the best way to encourage someone to continue something. If you can't take 5 minutes to write me a review, why should I take a year off to write you a sequel? Every author I know will tell you the same thing. For those that weren't aware, there's always a chapter or two in which I give you a sneaky peek, such as this one here…
And because I seem to like all things apocalyptic, and because the news daily makes me feel like one is almost inevitable, most of my books have leaned in the 'everyone's gonna die' aspect. In Circle in the Sand, all of humanity perishes due to a… you thought I was going to spoil it for you didn't you? Go ahead and read it.
I can't do things by halves, in fact, I'm writing two books at the same time. I've been working on The Peace Ambassador for nearly two and a half years, but I started a new one called An Hour of Your Time. For those of you who have been following the story online, you'll be happy to know that it's going to be a full book. And for those who don't care one way or the other, I hope that you're first hit by a meteor, torpedo, Trump's belly or virus or whatever comes first.
So, in a nutshell, yes…the apocalypse is coming in the form of two books by your favourite, awesome, under-rated, full of something… author.
That's if…and I do mean a very large IF…the actual apocalypse isn't brought about by one of the under-experienced leaders of the so-called First World countries.
Have a nice apocalypse.
Fox
Pssst…I need your help
Fox Emerson costs money to run, and most people think I earn a million dollars because I have several books. Spoiler Alert: I don't earn enough to cover running costs.
You could help by simply downloading ANY of my books on Amazon or Smashwords. There's a free one, a cheap one and the most expensive one is US$2.99
Also, if you like my blogs, maybe you could take a few seconds to let me know?
Are you a reader? You might like my work. Or maybe someone you know might like my work? Forward it on. Share a book or a post on your social media. Every tiny bit helps and it means I can keep writing free content.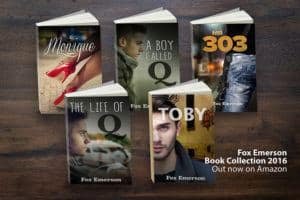 Thanks!
Fox