Wrong House Mother Fucker
When I was living in Perth, Australia, this red-back spider made the stupid mistake of coming into my house. Because as humans we react with fear, I grabbed a can of bug spray and coated him in white. My partner asked me, "what's that white cotton wool ball scurrying away?" Wrong House Mother Fucker.
I recently made the stupid mistake of buying a HP laptop. After years in IT, I thought that HP still rocked. How wrong I was. Long story short, I had been stuck in my apartment in Italy, waiting all week for the UPS delivery guys to deliver a replacement laptop for my faulty unit. After four days of being trapped inside all day praying for that doorbell to ring, he finally arrived on that Thursday afternoon. By the time I ran downstairs to open the door, he drove off. I was later notified by HP that UPS had tried to deliver my unit and I wasn't home. To say I was pissed off, would be an understatement. That Friday I was camped by the front door, downstairs with a full can of bug spray. Hoping that when the UPS guy finally turned up, I was going to open the door, grab the laptop from him then spray him until he was white and yell, "Wrong House Mother Fucker!"
So, several days later, I'm still waiting for HP to organise UPS to deliver my laptop. Apparently it takes an immense amount of coordination to get a replacement laptop from Milan to Florence. My experience with HP thus far, given I'd always been a fan of HP, is now 1 out of 5. I'm a huge fan of checking support services for a company before buying anything from them and relied on my previous knowledge of HP when I bought the current HP laptop. Oh boy, how times have changed. After reading some pretty awful experiences from other HP users, I'm kicking myself for having made such a stupid mistake. I've since gone back to HP and asked for a refund instead. I'm going to do further research and go with another brand. Clearly, HP are no longer worthy or something I should take seriously.
Update – I've just spoken to HP and apparently they tried to deliver the unit a few days later…to the building next door. I did think I had heard someone shouting, "wrong house mother fucker." All this, after I'd already told them I don't want the unit anymore. Go figure. HP have not only succeeded in proving they can't make quality products anymore, support their own product, but also in ensuring they don't listen to instructions.
Regardless of laptop issues, I was still able to continue with a Reddit Author Spotlight I had scheduled for the 14th of May. After being accepted for the /r/books Author Spotlight, which is an AMA – Ask Me Anything – I was marginally prepared. You can read the post here and I can honestly say, it was a resounding success for me. Over 2,000 people upvoted the thread and it made it to the front page of Reddit with over 350 comments. I only got trolled a dozen times, which I thought was good considering the attention it got. But I gave them my stock standard response when they entered, wrong house mother fucker! Which has become my response to most things these days.
Regardless, I sold hundreds of books, which I wasn't expecting and got enormous feedback and contributions towards Mr 303 Part Two. I've even landed a few consultants who have volunteered to assist with technical aspects on the virus, ecological considerations, psychology of survivors and even a number of volunteers to be beta readers for the book. To aspiring authors, I highly recommend doing a Reddit Author Spotlight and getting feedback which will help incredibly.
One of the funniest comments I had, which was clearly designed to be very nasty, was in response to the title of the thread. I'd put an eye-catching "I'm not an alcoholic, I'm just Australian" which was intended to be funny and was received that way by the human component. One guy's contribution was, "I hate the Australian accent. In fact, I think most Americans do."
Wrong house mother fucker was my response.
Cheers for tuning in, hope you had a laugh over my HP laptop nightmare.
Fox
Pssst…I need your help
Fox Emerson costs money to run, and most people think I earn a million dollars because I have several books. Spoiler Alert: I don't earn enough to cover running costs.
You could help by simply downloading ANY of my books on Amazon or Smashwords. There's a free one, a cheap one and the most expensive one is US$2.99
Also, if you like my blogs, maybe you could take a few seconds to let me know?
Are you a reader? You might like my work. Or maybe someone you know might like my work? Forward it on. Share a book or a post on your social media. Every tiny bit helps and it means I can keep writing free content.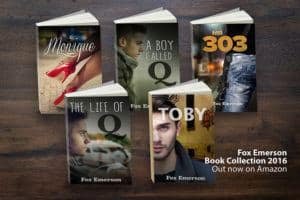 Thanks!
Fox