If you've landed on this page, then it means I'm…oh wait, I've done that one already.
As per the post I wrote a couple of days ago, I've got a new book coming out and I'd really like to ask for your help.
When we release a new book, that first period – during pre-sales, is crucial. if you don't hit a certain number of sales, your book will sink into the abyss, along with hundreds of millions of other books.
If you're lucky and you've established a fan base, you may reach those initial numbers. But that's not the norm in today's noisy world, where people are literally standing on street corners begging you to buy something.
I'm asking you to buy a pre-order copy – it's not expensive, for a book, it's super cheap. Considering I spent 3 years writing this one, it's absolutely small. And then, if you really want to, because you enjoy reading a good book, you can read it too.
Also, if you're a fan of my work, or simply want to help me succeed with this new book, please pass the link onto others that you know might help out too.
The Peace Ambassador is about terrorism, it's about what's going on in today's world, it's about corruption and it's about how that will probably end. It's apocalyptic and it's dystopian; it sure does run under the fiction category.
As the author, this is my new baby and I want everyone to love this one, naturally.
If you think my brand new baby's not so pretty, please walk away. But if you like my new baby as much as I do, please tell everyone you know.
By the time the book comes out on January 24, 2020, I need to have hit x number of sales and then, this magic thing happens. The book sellers, such as Amazon, Nook Book, Kobo etc, they put it in their 'recommended reading' list. And that goes out to millions of readers worldwide.
When that happens, I'll get exposure to a wider audience who will see my new baby.
So, I'm asking for your help. And if you need something in return from me, please put it in the comments section below or contact me. When the time comes, and if I can do it, I will.
Thanks and I truly, from the bottom of my heart hope you like this book.
Fox
Links to pre-order the book are here…
Smashwords – all other formats /international
Pssst…I need your help
Fox Emerson costs money to run, and most people think I earn a million dollars because I have several books. Spoiler Alert: I don't earn enough to cover running costs.
You could help by simply downloading ANY of my books on Amazon or Smashwords. There's a free one, a cheap one and the most expensive one is US$2.99
Also, if you like my blogs, maybe you could take a few seconds to let me know?
Are you a reader? You might like my work. Or maybe someone you know might like my work? Forward it on. Share a book or a post on your social media. Every tiny bit helps and it means I can keep writing free content.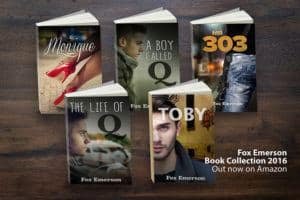 Thanks!
Fox